Over 3,000 sold COMS units in use worldwide
used by leading plant manufacturers since 1972
Oil mist separators
Standard and special designs
Standard designs
Blower throughputs of 8 to 255 Nm3/h at 50 Hz operation, -60 mbar Δp
All compact series with filter housings
Filter element efficiency of 99.98%
The purified air has been verified to have a residual oil content of below 0.1 mg/m3 and contains no particles between 0.2 and 0.9 μm.
Space-saving design with a motor blower unit mounted entirely on the cover
Made of construction steel, entirely hot-dip galvanized and the exterior painted
Internal parts made of aluminum
Filter elements made of fiberglass fleece with inorganic binder
Compressor motor 230/400 V, 50 Hz, protection class: IP55
Quick spare part supply secured for years to come
ATEX design for applications up to Zone 2 (3/3G)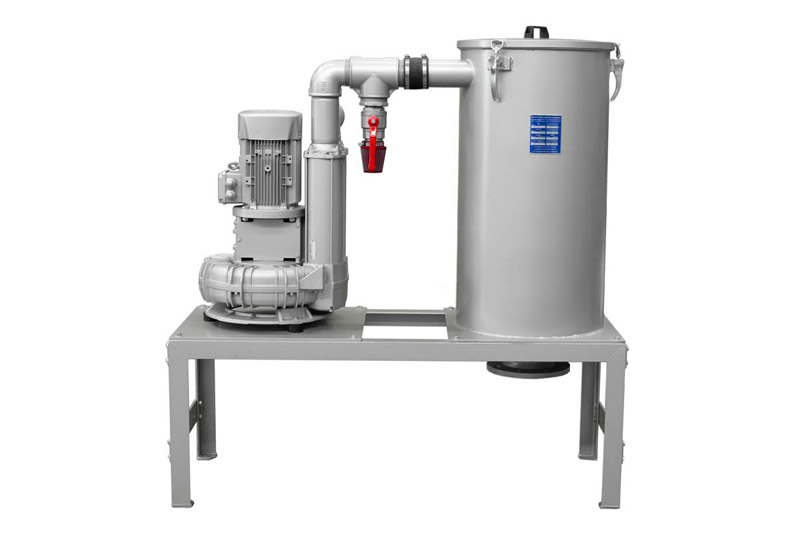 Special designs
Blower throughputs of 340 to 1,200 Nm3/h at 50 Hz operation, -60 mbar Δp
Project-specific process connections
Without side channel compressor
Materials: carbon steel, 304/304L and 316L stainless steel
Special painting for offshore applications, for example
The entire Contec oil mist separator is certified according to ATEX Directive 2014/34/EU and can be used in areas subject to explosion hazards
Complies with cutting-edge safety standards
Can be used in gaseous atmospheres as Category 2 and 3 equipment (Equipment Group II)
Upon request, can be manufactured according to ATEX requirements for Zone 1 (occasionally explosive atmosphere) or Zone 2 (explosive atmosphere not likely to occur in normal operation and if it does occur, persists for a short period only) of Group IIC (propane, ethylene, hydrogen)
Ex-pressure resistant drives, VIK, special voltages, etc.
Optional motor blower unit on a special frame construction
Motor blower units are controlled independently from one another with ball valves and check valves
Ball valves make the motor blower unit easy to decouple and remove
Easy maintenance thanks to mirror-inverted structure
Complete bypass with integrated check valve
The bypass normally mounted on the lubricating oil tank is integrated compactly into the system
Emergency bypass for avoiding overpressure in the lubricating oil system during system failure
Manual valve for adding purified exhaust air inherent in the system for controlling negative pressure
Specifically for applications in ZONE 1 environments or for severely contaminated ambient air
Downstream suspended matter filter insert
Reduces aerosols in exhaust air
Specially developed mechanical eccentric lifter
For easy lift of the filter cover and easy replacement of filter elements, especially when no indoor crane is available
For compact series only, especially for Type 2.200/630 with heavy motor blower unit
Filter system without motor blower unit
Filters and separates oil mist in lubrication oil systems with overpressure
The advantages of Contec Oil Mist Separators (COMS)
Oil mist separator can be installed in gas and steam turbines, hydroturbines, gas and diesel engines, turbo-compressors, generators, gearboxes and other rotating machinery
Filter efficiency of 99.98% with droplets of 0.1 µm
No particles between 0.2 μm und 0.9 μm
Individual connections design for direct integration of the oil mist separator into the existing systems
Individual manufacture with blower throughputs of 8 to 1,200 Nm3/h at 50 Hz operation and -60 mbar Δp
Modular system for virtually any application
Approved and proven oil mist separators on systems from Siemens, MAN Energy Solutions, Dresser Rand, Mitsubishi, Hitachi, Toshiba, GE, Alstom and many more
Numerous options
Quick spare part supply secured for years to come
Long service life and simple filter element replacement
Automatic oil return with sight glass monitoring
Awarded with the environmental technology prize
The oil mist separator is installed in lubricating oil tanks for:
Turbines
Gas and steam turbines
Turbo-compressors and turbo-machinery
Gas and diesel engines
Vacuum pumps
Rotating machinery
Large-scale compressors
Crank shaft gears
Generators
Other machinery with oil systems
Contec Oil Mist Separator series
| COMS-Type | Throughput | kW engine |
| --- | --- | --- |
| | 24 Nm3/h | 0.18 kW |
| | 50 Nm3/h | 0.37 kW |
| | 110 Nm3/h | 0.75 kW |
| | 190 Nm3/h | 1.10 kW |
| | 255 Nm3/h | 2.20 kW |
| | 360 Nm3/h | 2.20 kW |
| | 340 Nm3/h | 3.00 kW |
| | 480 Nm3/h | 3.00 kW |
| | 600 Nm3/h | 4.00 kW |
| | 710 Nm3/h | 5.50 kW |
| | 950 Nm3/h | 9.20 kW |
| | 1,200 Nm3/h | 11.00 kW |
How do oil mist separators work?
Have a look at the animation to see the interior of a COMS (Contec Oil Mist Separator). How are oil aerosols separated and fed back into the system, where are the filter elements and how are they replaced?